New TC Series Features High Capacitance, Exceptionally Low Profile, and Very Low ESR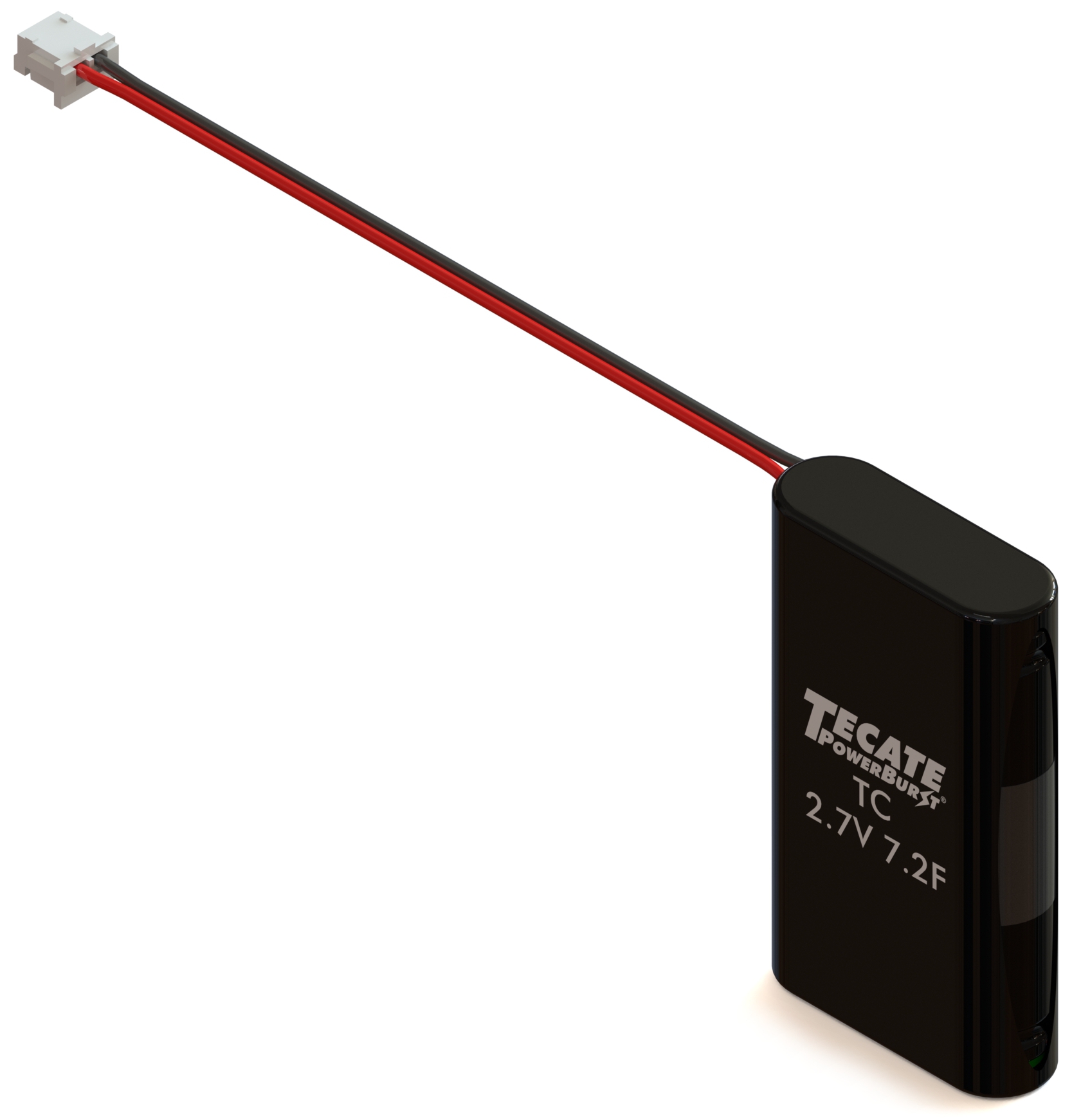 Tecate Group, a leading global supplier of capacitors and ultracapacitors, today announced the release of their newPowerBurst® TC Series ultracapacitors. With extremely low ESR through parallel cell connections and a slim profile with 6.0mm-diameter, UL 810A-recognized cylindrical cells, the TC Series is designed to fit into very tight spaces. The new supercapacitors are rated at 2.7V and incorporate leads and a JST-ZHR-2 connector for easy board connection. Available in 7.2F and 9.6F configurations, these devices rival their prismatic counterparts in their form factor and offer lower ESR versus prismatic designs at comparable capacitance values. Tecate has developed many custom cell and module solutions to meet dimensional and electrical challenges across a variety of industries.
Operating at temperatures from -40°C to +65°C, these devices can be specified in applications that include military and commercial handheld devices, solid state drives (SSD), and many space-constrained applications requiring immediate delivery of short-term backup power. With an excellent span of more than 500,000 cycles and a long service life, the TC Series can replace batteries for short-term power backup, dramatically reducing maintenance costs related to battery replacement. As with all Tecate ultracapacitors, the TC Series is RoHS compliant and is a green alternative to batteries in its use of exclusively organic materials.
The TC Series is available at 7.2F in 20.9mm (L) x 7.2mm (W) x 35mm (H) and 9.6F in 27.8mm (L) x 7.2mm (W) x 35mm (H). TC Series ultracapacitors feature a capacitance tolerance of -10% to +20%. Delivery is from stock to 8 weeks ARO. For more information and to purchase Tecate's PowerBurst TC Series ultracapacitors, visit http://www.tecategroup.com/ultracapacitors-supercapacitors/powerburst.php